LadyCare Plus Replacement Button
Lost your LadyCare button? Not to worry, you can buy a replacement from our online shop.
Hot flushes & night sweats
Uneven skin tone
Low energy levels
Low or fluctuating mood
Weight gain or bloating
Irregular or heavy periods
Heart palpitations
Loss of sex drive
Vaginal dryness
Lack of concentration
Lapses of memory
Urinary incontinence
Bladder infections
Hair loss
Indigestion, cramping, nausea
Sore muscles, tendons & joints
Breast tenderness
Muscle tension
£5.00Add to basket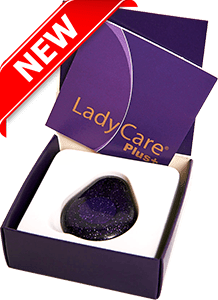 LadyCare Plus
The new LadyCare Plus+, natural Relief from menopause symptoms in a discreet, comfortable and easy to use device.
Hear Why Women Like You Have Chosen LadyCare